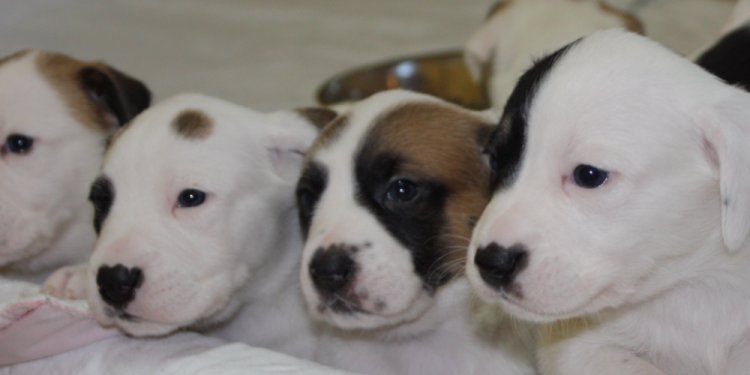 Help Orphan puppies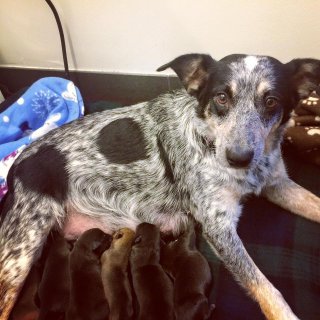 Sometimes in our darkest moments a light suddenly appears.
On a very hectic Saturday morning at Animal Medical Center of Chicago, a recently rescued pregnant pit bull came to see me with a 24- hour history of labored breathing and restless behavior. This young pit bull, newly named Hallie, was in labor and could not successfully deliver her puppies on her own. On physical examination, Hallie appeared to be in relatively good body condition with an abnormal vaginal discharge. An abdominal radiograph was taken and revealed at least 6 puppies in a greatly distended uterus. Given Hallie's 24-hour history of a non-productive labor and concern for a uterine tract infection, I recommended a caesarian section.
Hallie was immediately transferred to a local specialty practice for her surgical procedure. A few hours later, I learned that the caesarian section went well- seven puppies successfully delivered and the mother was recovering nicely from anesthesia. The surgeon informed me that one puppy was tightly wedged against the wall of the mother's cervix and had some purulent material around her face.
The following day, I called the specialty practice to see how Hallie and her puppies were doing. To my shock, the receptionist told me that the mother died of cardiac arrest a few hours after recovering from anesthesia and one puppy died shortly thereafter.
I immediately contacted the rescue organization and expressed my heartfelt condolences on the loss of Hallie and her one puppy. I told Kristen Gerali, the Founder and President of Alive Rescue, that Hallie's death was tragic and truly unexpected but we should be thankful that she lived to deliver 6 healthy puppies.
Overwhelmed by the prospect of hand feeding 6-orphaned puppies, Kristen and Alive Rescue volunteers used social media to locate supplies and volunteers to nurse these puppies. Fortunately, another rescue organization, called Wagging Hearts Rescue, contacted them and told them they may have a surrogate mom, named Trixie, for the puppies. Around seven weeks ago, Trixie gave birth to a litter of puppies and was still lactating. Given Trixie's sweet disposition, this rescue group thought she might be receptive to raising these 6-orphaned puppies.
Just 36 hours after their birth, these puppies were off to meet their potential surrogate mother, Trixie. With in seconds of meeting Trixie, everyone knew that she was capable and receptive to taking on the responsibilities of feeding and caring for the orphaned puppies. Upon seeing the puppies, Trixie slowly lowered herself down onto the floor and allowed the puppies to latch onto her. I only wish I was there to witness this beautiful sight of 6-hungry puppies happily nursing.
Yesterday, I met Trixie and the 6-orphaned puppies. It brought tears to my eyes to watch the puppies nurse off of Trixie and to see how proud she was of her new role as a surrogate mom. She was gentle and relaxed with the puppies! This pairing was definitely a stroke of genius and good fortune!
Share this article
Related Posts