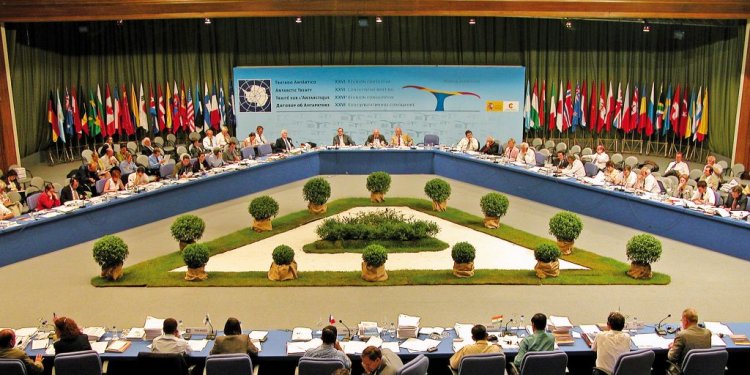 Environmental Protection Australia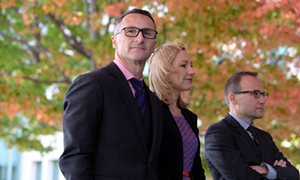 The Greens leader, Richard Di Natale (left) with Larissa Waters and Adam Bandt in Canberra on Wednesday. Photograph: Sam Mooy/AAP
The Greens want to create a tougher independent environmental watchdog and a new set of environment laws for Australia.
They said the current system is failing because it is too easily exploited by powerful miners and developers.
The Greens leader, Richard Di Natale, said the Greens will push in the next parliament to establish an independent statutory national environment protection authority (NEPA), modelled on the EPA in the United States.
He said the new NEPA would enforce Australia's national environment laws, advise the federal minister on projects requiring approval, conduct inquiries and produce national environmental accounts and sustainability reports.
It would also undertake work on its own initiative – not just when directed by the minister – and report regularly to parliament.
It would be funded at $130m per year, including a budget for assessment, compliance and enforcement of $95m per year.
The Greens also want to create a new environment act as the "next generation" of strong national environment laws.
"The last 15 years has shown that they have failed, " the Greens said in a statement. "Thousands of damaging developments have gone ahead and many more of our iconic and important animals and plants are in danger of becoming extinct.
Di Natale, who is in Tasmania on Tuesday, has announced the two plans as part of a $2.6bn package over six years to protect the environment and fix what he calls a "rigged system" that gives big miners and developers too much power in Australia.
Di Natale said the current system of environment protection is failing because wildlife habitat is still being cleared and fertile land is being ruined to dig up more coal and frack for more gas, contributing to climate change.
"We need an independent statutory national environment protection authority, which enforces our environment laws, free from the influence of politicians and the big business lobby, " Di Natale said.
"We already have independent expert bodies, like the Productivity Commission, to advise on economic matters. We need to extend this principle to the environment that sustains our economy."
The Greens said an independent NEPA would assess applications for all projects and provide "expert, fearless advice" to the federal environment minister who must make the final decision under national environment laws.
All of the NEPA's advice would be made public so voters could see whether the minister acted on that advice or not.
It would also publish comprehensive national environmental accounts and provide sustainability reports to parliament.
Included in the $2.6bn package is the plan to re-establish the Biodiversity Fund – announced on Sunday – and double the previous funding with $2bn over six years to expand Australia's protected areas, stop the loss of native wildlife and better manage established national parks, forests and reserves.
The Greens also want to better protect Australia's world heritage areas and Ramsar wetlands by conducting a review of their management and by boost their funding, at cost of $63m over four years.
They also want to phase out native forest logging and provide immediate protection for high conservation value forests, and stop "runaway tree-clearing."
Share this article
Related Posts