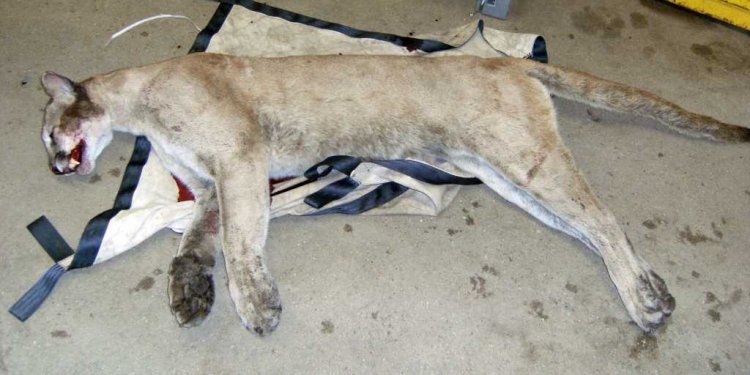 Connecticut Department of Environmental Protection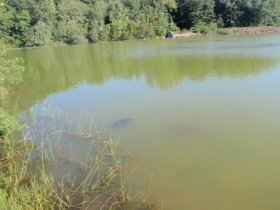 Blue-Green Algae Blooms
Blue-green algae, also known as cyanobacteria, occur naturally in lakes and ponds throughout Connecticut. These microscopic organisms often go unnoticed and cause no harm. However, when nutrient loading exceeds certain levels, a water body can experience nuisance blue-green algae blooms that may produce and release toxins. When blue-green algae blooms release toxins, people and animals using the water body for recreation can be affected. Basic information is provided here about blue-green algae blooms and how to respond if you observe a bloom in your lake or pond.
Potential Health Effects from Exposure to Algal Toxins
Several different types of blue-green algae that can produce toxins commonly occur in lakes and ponds in Connecticut. Assessing the potential health effects from blue-green algae blooms is complicated because the blue-green algae in a bloom may not be producing toxins. Therefore, chemical analysis of the water is needed to verify if a blue-green algae bloom is releasing toxins.
People who recreate in waters when a blue-green algae bloom is present may be exposed to toxins by ingesting water, dermal contact, or inhalation of water droplets. Potential health effects to such exposure could include:
Irritation of the skin, nose, eyes and respiratory tract.
Gastrointestinal upset such as vomiting or diarrhea upon ingestion.
Liver or nervous system effects, if relatively large amounts of the algae are ingested.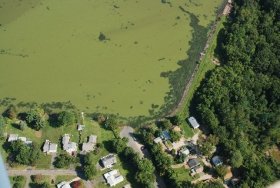 Dogs are especially at risk from exposure to blue-green algae blooms. They can be exposed to the toxins in a similar manner as people. However, dogs may also drink from the tainted water and be exposed when they groom themselves after leaving the water.
Fish living in waters affected by a blue-green algae bloom may accumulate algal toxins in their muscle tissue and internal organs. The health risk posed by consumption of such fish is uncertain. Toxin levels are usually higher in internal organs than in the muscle tissue. General precautionary advice to anglers to reduce exposure includes:
Avoid fishing in areas with visible algae blooms due to potential incidental contact with the water.
Eat fish from water bodies with blue-green algae blooms in moderation (1-2 meals or less per week.)
Remove skin and internal organs before cooking. Wash fillets before cooking or freezing.
Activities which could lead to potential exposures to blue-green algae blooms are listed below.
Level of Potential Exposure
Recreational Activity
Primary Exposure Pathway of Concern
High

Swimming / wading

Diving

Water skiing / wake boarding

Wind surfing

Jet Skiing

Ingestion
Ingestion
Share this article
Related Posts