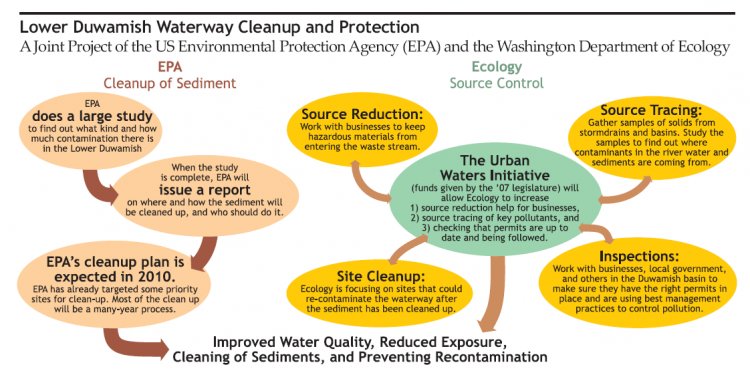 Washington State Environmental Protection Agency
Water Quality > Ground and Surface Water Quality Information > Groundwater Quality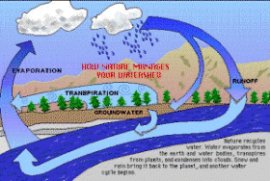 Groundwater is water that is under the ground. Water from rainfall, snowmelt, lakes, streams, and wetlands seeps into the ground. The water collects in the spaces in materials like sand and gravel, similar to water in a sponge. It can also collect in fractures in hard rock. These underground "ponds" are called aquifers.
Groundwater provides drinking water through wells, as well as base flow for many streams and rivers. This base flow is especially important during dry summer months for fish.
Why this matters
Groundwater is important to the economy and environment of Washington State. Over 60 percent of Washington residents get their drinking water from groundwater. Groundwater is also used for irrigation, agriculture, and a number of other industries in the state.
Because groundwater is underground and out of sight, various chemicals used or dumped on the ground's surface can infiltrate into the ground, or leak from septic systems, and end up in the groundwater. Once these pollutants enter groundwater, they can be difficult to detect by taste or smell, and difficult to remove. They can then end up in drinking water and water used for irrigation. Because groundwater supplies many of our streams, especially in the late summer, pollutants in groundwater can end up in those rivers and streams.
Groundwater Quality Standards
Implementation Guidance for Groundwater Quality Standards (Publication 96-02, revised October 2005)
Explains and interprets the standards, providing clear direction to promote consistent statewide implementation for all activities which have a potential to degrade groundwater quality
Underground Injection Control Program
This program protects groundwater quality by regulating the disposal of fluids into the subsurface
Other Groundwater-Related Links
(CARA)
Provides local governments with a mechanism to protect the functions and values of a community's drinking water by preventing pollution and maintaining supply
Information on technical studies of groundwater-related issues
(GWMA)
Voluntary local planning effort to work on nitrate in groundwater issues, formed by locally elected leaders and citizens of Adams, Franklin and Grant Counties
(Note: requires FLASH software to view.)
An animated lesson about ground water courtesy of King County Metro
Vancouver Helps Protect Vancouver′s Water (WQ Success Story)
The city of Vancouver created a consensus team to develop an ordinance and other resources to protect the city′s surface, storm, and groundwaters.
Provides voluntary and confidential water quality/environmental risk assessments for home and/or farm property to help protect the watershed's water quality
(EPA)
Provides information on how EPA works with states, tribes, and others to ensure safe drinking water and protect groundwater
Land Application Guidance Documents
Guidance on Land Treatment of Nutrients in Wastewater, with Emphasis on Nitrogen
Ecology Publication No. 04-10-081
Guidance on land treatment of nutrients in wastewater, with emphasis on nitrogen
State Waste Discharge to Ground Permits
Washington Nitrate Prioritization Project | Read the report (Publication No. 16-10-011)
Ground Water Studies and Reports
Information on ground water assessment studies performed by the Department of Ecology
Groundwater in Washington State Report (Publication No. 96-007)
General summary of ground water in Washington State
Nitrate Contamination in the Mid-Columbia Basin Report
Information on nitrate contamination in ground water in the mid-Columbia Basin area, including Adams, Benton, Franklin, Grant, Lincoln, and Whitman counties
Nitrogen Use by Crops and the Fate of Nitrogen in the Soil and Vadose Zone (Publication No. 00-10-015)
Report on a literature review on the fate of residual nitrogen (N) in the soil and vadose zone. Provides background information on nitrogen use by crops and interactions between the soil water and nitrogen balances and crop water and N use.
Share this article
Related Posts