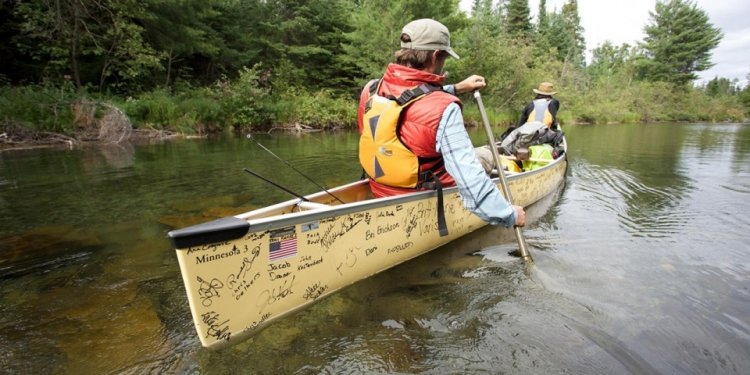 Minnesota Environmental Protection Agency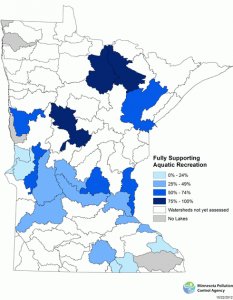 Assessments
The MPCA gathers water quality data from its staff, citizen volunteers, and partners, and then uses the data to assess the condition of Minnesota lakes. This assessment focuses on whether the water meets standards to protect recreational uses such as swimming. Visit the MPCA's Environmental Data Access webpage to see lake quality data and assessments for individual lakes.
Starting in 2008, the MPCA began a 10-year cycle for examining major watersheds or drainage areas. The MPCA is meeting its goals to study all 81 major watersheds within 10 years, with 17 watershed assessments completed. An additional seven watersheds will be assessed 2012, with the remaining watersheds scheduled through 2019. More detailed information for individual lakes and stream sections can be found on the MPCA's Environmental Data Access web page.
The MPCA, with the help of state and local partners, uses data from the intensive watershed monitoring to determine which lakes are healthy and need protection, and which lakes are polluted and need restoration.
Once assessments of basic water quality have been made, the monitoring data gathered during intensive monitoring serve as a starting point in determining the sources and magnitude of pollution for polluted waters, or as a baseline to set protection measures for those waters that are not polluted. State agency and local colleagues are partnering to conduct intensive monitoring, assess the resulting monitoring information, and to develop restoration and protection plans. Through the Watershed Approach, intensive sampling and assessment of lakes and streams in all 81 major watersheds allows for better protection of Minnesota's clean lakes, and restoration of the polluted ones.
Data and reporting
After assessing water quality data and determining if waters support recreational uses, the MPCA publishes its findings in detailed reports. The MPCA has written hundreds of these reports since 1985. More recent reports cover major watersheds instead of individual water bodies. In addition to reporting on lake assessments, the MPCA also publishes regional and trend studies.
Below are some of the MPCA's recent lake assessment reports. Following the list is a spreadsheet of all available water quality reports, sorted by county. The spreadsheet includes the name of the lake, the Minnesota Department of Natural Resources lake identification number, the year the study was conducted, and the type of report.
Report title
Year study conducted
CLMP+ Report on Grass Lake (Anoka County)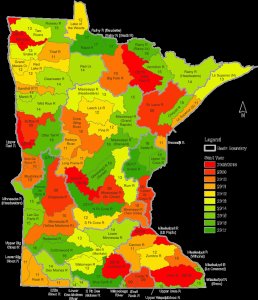 2012-2013
CLMP+ Report on Pike Lake (St. Louis County)
Assessment Report of Selected Lakes within the Buffalo River Watershed Red River of the North Basin
2012
Water Quality Assessments of Select Lakes within the Mississippi River (St. Cloud) Watershed
2011
CLMP+ Report on East Sunburg Lake (Kandiyohi County)
2010-2011
CLMP+ Report on Sunburg Lake
CLMP+ Report on Star Lake (Meeker County)
2009-2010
CLMP+ Report on Lewis Lake (Kanabec County)
Assessment of Select Lakes within the Kawishiwi River Watershed (St. Louis, Lake, and Cook counties)
2010
2010 Assessment of Selected Lakes in Cass County, McKeown Lake, Kid Lake, Kerr Lake, Lost Lake, Mann Lake, and Baby Lake
Lake Cowdry, Stony Lake, North Union Lake, Taylor Lake — LAP Report
Assessment of Selected Lakes within the Sauk River Watershed (Douglas, Pope, Todd, Stearns, Meeker Counties)
Assessment Report of Selected Lakes Within the Pomme de Terre River Watershed (Otter Tail, Grant, Douglas, Stevens, Swift, Big Stone Counties)
Assessment of Selected Lakes within the North Fork Crow River Watershed (Pope, Stearns, Kandiyohi, Meeker, McLeod, Wright, Hennepin Counties)
Assessment of Selected Lakes within the Le Sueur River Watershed (Blue Earth, Waseca, Faribault, Steele, Freeborn Counties)
Assessment of Selected Lakes within the Little Fork River Watershed (St. Louis, Itasca, Koochiching Counties)
< 2010
In addition to lake or watershed specific studies, a variety of research studies have been conducted as a part of MPCA's lake water quality program. This research addresses specific issues such as the extent of blue-green algal toxins in Minnesota lakes, ecology and water quality of shallow lakes, determining lake trends based on sediment cores and providing support for development of lake eutrophication standards. Below are some of the more current studies that have been conducted. The spreadsheet that follows includes other reports developed as a part of lake water quality assessments.
Progress
35 major watersheds have been intensively monitored.
In 2012, monitoring began for 7 additional watersheds, and will be wrapping up in 2013.
In 2013, the MPCA and its local partners will begin monitoring eight more watersheds.
Cumulative percent of watersheds completed chart
Goals to assess the lake water quality data from intensive watershed monitoring are also on track.
To date, water quality data from 24 out of 80 major watersheds have been assessed.
An additional 11 watersheds will be assessed starting in February 2013, with the remaining watersheds scheduled for assessment through 2019.
In 2018, a new watershed monitoring cycle begins, which means returning to the watersheds that were monitored 10 years earlier. Re-monitoring reveals if water quality has improved, declined, or remained the same.
Share this article
Related Posts