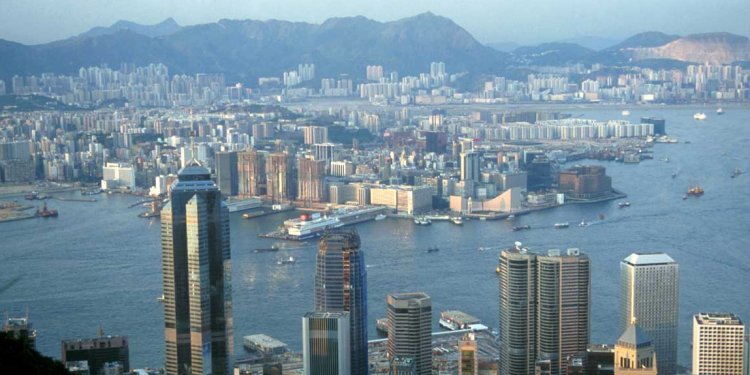 Environmental Protection Department Hong Kong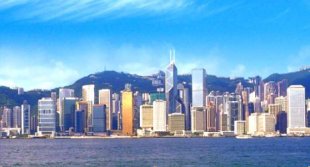 This section gives an overview on air pollution control in Hong Kong. For more information on Hong Kong's air quality, please visit Air Pollution Control Strategies, Air Quality Objectives, AQHI & Air Quality, Indoor Air Quality, Ozone Layer Protection, Asbestos Control, Problems & Solutions, Public Consultation, Data & Statistics, Study Reports and Guidelines & References.
AN OVERVIEW ON AIR QUALITY AND AIR POLLUTION CONTROL IN HONG KONG
THE AIR QUALITY PROGRAMME
Hong Kong has been facing two air pollution issues, namely local street-level pollution and regional smog problem. Diesel vehicles are the main source of street-level pollution. Smog, however, is caused by a combination of pollutants from motor vehicles, marine vessels, industry and power plants both in Hong Kong and in the Pearl River Delta region. Because of these air pollution problems, Hong Kong has yet to fully achieve the current Air Quality Objectives [see Air Quality Objectives Compliance Status]
The Hong Kong Special Administrative Region Government gives high priority to controlling both local air pollution and regional smog problems. The main strategies include:
Implementing a wide range of measures to control emissions from motor vehicles, marine vessels, power plants, and industrial and commercial processes locally.
Working with Guangdong Provincial Authorities to implement a joint plan to tackle the regional smog problem.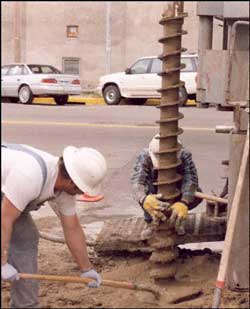 Reducing Emissions from Vehicles
The levels of respirable suspended particulates (RSP) and nitrogen dioxide (NO2) at the roadside in Hong Kong have been exceeding the Air Quality Objectives over the years. Motor vehicles, especially diesel vehicles, are the main sources of these pollutants at street level in Hong Kong.
To tackle this problem, the Government has implemented a host of measures to cut vehicular emissions after 1999, such as the incentive programme to replace diesel taxis/light buses with liquefied petroleum gas vehicles, the adoption of tighter fuel and vehicle emission standards whenever practicable, the incentive programme to retrofit old diesel vehicles with particulate reduction devices, providing grants to help vehicle owners to replace their old vehicles with ones which comply with the prevailing emission standard for newly registered vehicles, stepping up the control on smoky vehicles, reduction of first registration tax for environment-friendly vehicles, etc.
The measures had brought some improvements. Compared with 1999, the roadside concentrations of some of the major air pollutants have dropped in 2015: respirable suspended particulates (RSP), sulphur dioxide (SO2) and nitrogen oxides (NOx), have been down by 51%, 70% and 50% respectively, and the number of smoky vehicles spotted has also been reduced by nearly 90%. However, nitrogen dioxide (NO2) at roadside in 2015 remained comparable to 1999.
To further improve the air quality at the roadside and tackle the roadside NO2 problem, we have embarked on additional control measures to reduce vehicle emissions. We have adopted an incentive-cum-regulatory approach to phase out some 82, 000 pre-Euro IV diesel commercial vehicles (DCVs) progressively by end 2019 involving an ex-gratia payment of about $11.4 billion and limited the service life of DCVs newly registered on or after 1 February 2014 to 15 years. We have been funding the franchised bus companies the full cost of retrofitting Euro II and III franchised buses with selective catalytic reduction (SCR) devices, which could upgrade their emissions performance comparable to that of Euro IV or above level. We are also fully subsidizing the franchised bus companies to procure six double-deck hybrid buses and 36 single-deck electric buses for trial.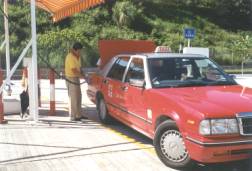 We have also set up a 0 million Pilot Green Transport Fund to support the testing of green and innovative transport technologies applicable to the public transport sector and goods vehicle. In addition, the Government has starting September 2014 strengthened the control of emission from petrol and LPG vehicles including the use of roadside remote sensing equipment and chassis dynamometer testing.
Taxis operating on liquefied petroleum gas (LPG) were introduced as cleaner alternative to replace diesel taxis
The number of smoky vehicles spotted has reduced substantially as a result of measures taken to reduce vehicular emissions in recent years
Reducing Emissions from Vessels
To control emissions from local vessels, Hong Kong has capped the sulphur content of locally supplied marine light diesel at 0.05% since April 2014. The Government has led by example by powering its fleet with Euro V diesel. With effect from July 2015, ocean going vessels are required to switch to fuel with sulphur content not exceeding 0.5% while berthing. We also collaborate with the governments in Pearl River Delta to explore measures to reduce vessel emissions in the region.
Reducing Emissions from Industrial Sources and Power Plants
The Air Pollution Control Ordinance and its subsidiary regulations provide for the control of emissions from power plants, industrial and commercial sources, construction activities, open burning, asbestos, petrol filling stations and dry-cleaning machines.
A regulation introduced in 1990 limiting the sulphur content of industrial fuel has reduced sulphur dioxide pollution to very low levels. We have further amended the regulation in 2008 to mandate the use of ultra low sulphur diesel (with sulphur content not more than 0.005% by weight) in industrial and commercial processes.
Power generation is one of the main air pollutant emission sources in Hong Kong. To reduce the emissions from the power sector, we have been prohibiting the installation of new coal-fired power plant since 1997, encouraging the use of natural gas for electricity generation, imposing stringent emission caps on power plants since 2005, and linking the two local power companies' rate of return to their compliance with the emission caps requirements. In 2008, we have also stipulated the stringent emission caps for 2010 and beyond through a Technical Memorandum (TM). In 2010, we reviewed the First TM and tightened the emission caps for the power sector from 2015 onward, the compliance with which will require the power sector to maximize the use of existing gas-fired generation units and prioritize coal-fired generation units retrofitted with emission abatement facilities. Four Technical Memoranda have been issued so far. The Fourth Technical Memorandum would tighten emission caps from 2019 onwards.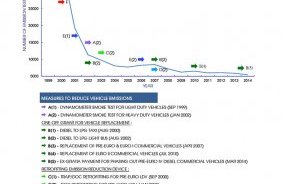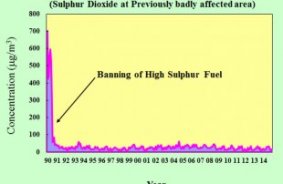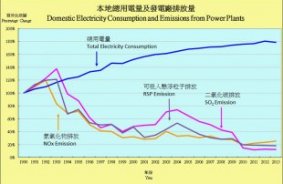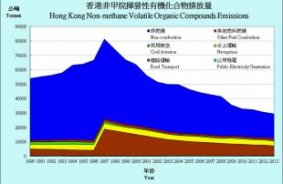 Share this article
Related Posts